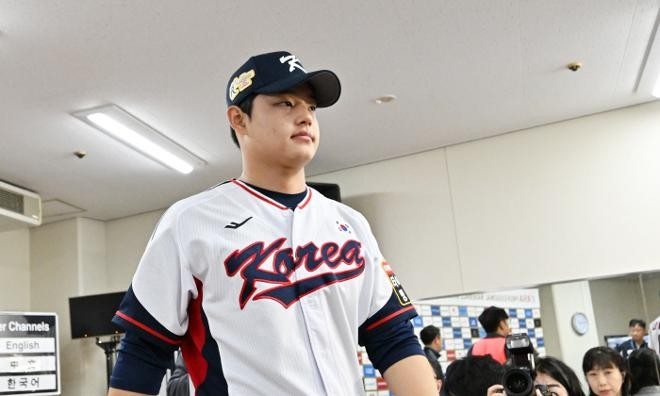 "I think he's a very strong pitcher."
South Korea's national baseball team, led by head coach Ryu Jung-il, will open its 2023 Asian Baseball Professional Championship (ABPC) qualifying campaign on Saturday against Australia at the Tokyo Dome in Japan.
South Korea has announced Moon Dong-ju (20-Hanwha Eagles) as its starting pitcher.
Moon joined the Hanwha Eagles as a first-round pick in the 2022 First-Year Player Draft and went 8-8 with a 3.72 ERA in 23 games this season. After pitching just 28⅔ innings in 13 games last year, Moon is in line for Rookie of the Year honors this year. With 118⅔ innings pitched this season against a 120-inning pitching limit, he is the favorite for Rookie of the Year.
At the Asian Games, Moon Dong-joo showed off his skills early on. She showed signs of improvement. In the preliminary round against Chinese Taipei, he pitched four innings of two-run ball and was the losing pitcher as his team lost 0-4, but he came back to face Chinese Taipei in the final and pitched six shutout innings. South Korea won the gold medal with a 2-0 victory over Chinese Taipei in the final.
Heading into the tournament, Ryu was faced with a total of six starting options. Won Tae-in (Samsung), Kwak Bin Choi Seung-yong (Doosan), Moon Dong-joo (Hanwha), Lee Yi-ri (KIA) and Oh Won-seok (SSG) competed for the starting spot in all four games.
Ryu said, "I will give the first game to the player who is in the best shape," and Moon Dong-ju was given the nod against Australia.
The reason for choosing the best pitcher for the first game was that he saw Australia as a must-win game. "It's a short game anyway, and it would be nice to win all three, but Australia and Chinese Taipei are must-win opponents. Whoever plays in the final, I think we have to win against Australia and Taiwan."
"He's in the best shape," Ryu said. The second through fourth starters have been decided, but Moon Dong-ju, who is in the best shape, will start the first game." "I hope he throws like he did at the Asian Games. His fastball and curveball with a big drop are his strengths," he said.
The Japanese press was also very interested. They asked him about his strengths and pitches. Moon said, "My strength is my fastball. I can throw fastballs without being afraid of any batter. Our defense is good, so I think I can push my strengths further." "I'm not sure about my current fastball. In Daegu, the speed gun was slow. All the players thought so. If I throw in a good atmosphere at the Tokyo Dome, I think I can keep the ball in the mid to high 150s," he said.
The Aussies face a tough opponent in their first game. "I think they've got some very strong pitchers in the qualifiers, and we don't really plan for any one player," said Australian coach Dave Nielsen. "I think it's going to be a very difficult stage. We've been practicing, so I think we'll be able to respond somehow."
Australia's starting pitcher is Brodie Cooper Vassalakis, 22. "He's been working hard for four or five years," Nielsen said. "He's been working hard for four or five years, and I think that's what makes him a good starter. We're excited to see what he can do."
In an interview during a training session during the call-up period, Moon expressed his desire to play against Japan in front of a full house. "I want to pitch in front of a full house," he said, "I don't have any desire to pitch against Japan, but I'm preparing well so that I can perform well in any game." He also said, "If I do pitch against Japan, I'll try to pitch more eagerly than I did in the Asian Games final.
Although he was unable to pitch against Japan, he did pitch in a must-win game for the national team.
Moon said, "I've been preparing well since Korea. I'm in great shape. I had good memories of the Asian Games. It's my first tournament in more than a month since the Asian Games, so I'll try to play well with good energy." "I'm looking forward to tomorrow's game, and I learned that baseball is about having fun, so I'll try to do the same. They trusted me to play my first game, so I will prove why they trusted me to play my first game."